In case you missed it and for new friends check out this great opportunity below!\/
My 2 Cents is excited to bring to you the launch of Dali Decals' new online community, The Dali Decals Back Lot! To celebrate the launch, Dali Decals is giving away $5,000 worth of Dali Decals gift certificates and two iPad2s!

The Dali Decals Back Lot is a place where Dali Decals' customers and fans can get to know each other, get to know Dali Decals, their business and their products, have some fun, and earn rewards while they do it!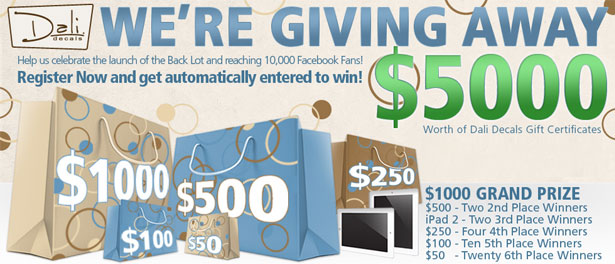 Participants are eligible to win one of the above prizes by simply creating a Back Lot account and becoming a member no later than August 31st at 11:59 PM EST. Absolutely no purchase necessary! All winners will be drawn randomly. Visit http://dalidecals.com/backlot/promotions/ for more details!
As if all of this wasn't enough, Dali Decals is also giving away the choice of a $500 gift certificate or iPad2 to the participating blogger that refers the grand prize winner. Point is, if you win, I win, so make sure you enter My 2 Cents or [http://my-2-cents.blogspot.com] in the "Who Referred You" box when you register at http://dalidecals.com/backlot/register
Thank you all and good luck!!