(First off I have to apologize for my serious delinquency in writing this review. This was one of my reviews that fell through the cracks for a short while during the chaos that was our homeless, home searching lives over the past three months.  I apologize for the delay and appreciate your understanding.)
I know everyone has been worried about zombies lately but they are missing the real danger….COWS!  They have everyone fooled. They are trying to take over the world.  With milk telepathy they controls human minds.  This glossy covered, 147-page, paperback book is full of hilarious and crazy impossibilities. How would these normally docile creatures do such a thing as take over the world. Well thank goodness for little Jimmy Tatley, a fourteen-year-old that is lactose intolerance! 😀 Can little Jimmy and his faithful sheepdog, Flossy find out what is going on and stop them before everyone is a mind slave to the bovines?!? This book is so well-written and detailed that these hilarious images play out in your mind. I can see elderly Mr. Winteron doing what looks a lot like break dancing in my head and the Cowssassin leader, Daisy, running the show. Then there are the "masters" but you will have to read this book to find out who they are and what happens.  You will find yourself smiling as you read along and watch the movie play out in your mind. Thank you Martin for a splendid story that my family loved.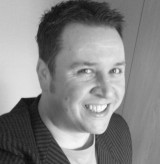 Martin knew he wanted to write a book but didn't know where to start.  He enrolled in a creative writing course at a local college in September 2008 and has never looked back.  Shortly after in June 2009, he joined the Holmfirth Writers' Group and in March 2010 became the treasurer. Since then he released two anthologies with over 350 sales and had some poems published, an article in a cat magazine and published his first book. This book was in remembrance of his grandparents and their writing. All of this was leading up to his first defining moment when he released his first novel….
Cows!
It had been two years in the making and quite a proud moment for him. He has since started his own publishing company,
Fishcake Publications
, and has co-authored another book of short stories,
Souls of Darkness
. This book he used the pen name, Damon Rathe. He is looking forward to releasing more of his own titles as well as other undiscovered authors!
I received one or more of the products mentioned above for free using Tomoson.com. Regardless, I only recommend products or services I use personally and believe will be good for my readers.