Jennifer Ouellette is the premier hair accessory designer in New York City.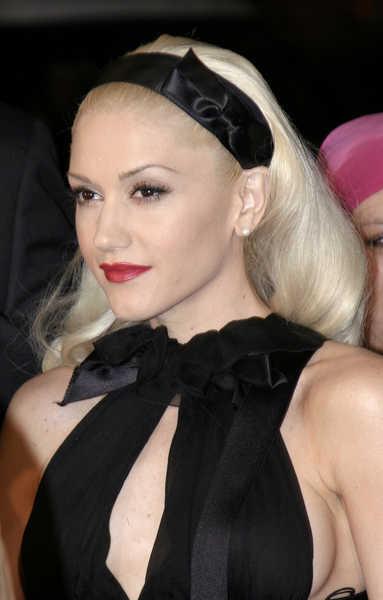 This is Gwen Stefani wearing one  a Retro Satin Headband by Jennifer Ouellette.
I was lucky enough to be selected to review some of her handband's and offer two different ones for a giveaway. Yes, you heard me right there will be 2 winners to this awesome review/giveaway!
ABOUT
In October 1996, after working with milliners in London and New York, Jennifer Ouellette created a company in which she is now proud. Today, the beautiful and meticulous details that set Jennifer Ouellette's designs apart are responsibly produced in her private studios located in New York City and Santiago, Dominican Republic. She graduated from the University of Missouri-Columbia, majoring in Textile and Apparel Management & Costume Design. She continues to combine her passion for vintage fashion with her modern New York City style. Using her needle and thread as an artist uses pencil and paint, she applies her manual sewing techniques to her millinery sculptures with loving detail.  In 1999, she was granted a US patent for the development of a unique headband design and construction, which greatly increases comfort and value. Her sustainable approach to her design proves she is a recycling artist. "I get creative when I start to clean my studio, reinventing our scraps is my expertise.  I am content when we have zero waste."
In February 2008, her City Scape Headpiece was selected by her mentor to be included in his exhibit,
Hats: An Anthology by Stephen Jones,
which opened at the Victoria and Albert Museum in London. The V&A touring exhibit will open in New York City September 2011 at
Bard Graduate Center
. Jennifer Ouellette is also the inspiration for the character in the upcoming feature "Half the Perfect World" to be released Sept 2011.
Jennifer Ouellette's work is included fashion's best periodicals around the world and her loyal customers demand more than shallow trends to compliment their style. Her designs are full of vitality and innovation, with inspirations from history, science and nature.
Is on on fire with her unique and beautiful headbands as you can see from this crazy list of publications she is featured in HERE. Jennifer Ouellette isn't only about headbands as she also offers some of the most unique and simply gorgeous hats as well and not only caters to women but also has some amazing men's hats
and has a stunning wedding collection
as well.
Her latest creation CN1X in black natural checkered and black and they are my favorites! Aren't they gorgeous?!?
Basic Siniamay And Pagalina Extra Wide Band
I just love how the gold headband looks in my Sarah's black hair and she really liked the purple headband on the right side with the peacock feather on it and my purple loving youngest daughter loves the wide band on the purple checkered headband.
My Opinon
My opinion is that Jennifer Ouellette creates some of the most beautiful headbands and takes a lot of time and care in her creations. There is definitely something for everyone with her amazing variety of styles, colors and sizes!
GIVEAWAY
These are the two headbands that are being offered for the giveaway so we will draw winner one for the beige  headband on the left and winner number two will receive the green headband on the right. This giveaway is open to US residents 18 years and older and ends July 6th at midnight. Enter using the Rafflecopter form below.
"Disclosure of Material Connection: I received one or more of the products or services mentioned above for free in the hope that I would mention it on my blog. Regardless, I only recommend products or services I use personally and believe will be good for my readers. I am disclosing this in accordance with the Federal Trade Commission's 16 CFR, Part 255: "Guides Concerning the Use of Endorsements and Testimonials in Advertising."